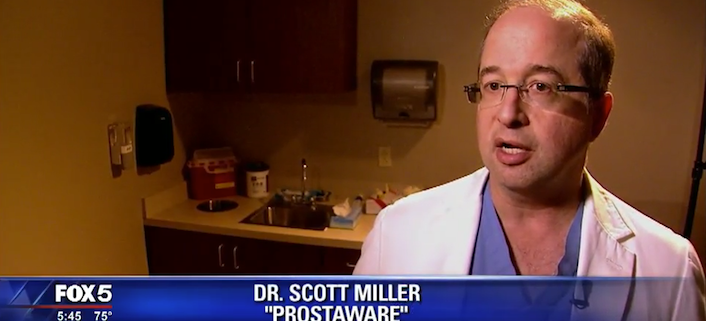 Dr. Scott Miller featured in Fox 5 Atlanta's prostate cancer success story
Dr. Scott Miller was recently featured on Fox 5 Atlanta discussing the importance of PSA prostate cancer screenings alongside his patient, Karl Lutz.
During an annual physical two years ago, Lutz's physician suggested he undergo a PSA test to screen for prostate cancer. The test revealed that he had elevated PSA levels, a key indicator of prostate cancer, and follow-up examinations confirmed the diagnosis. Fortunately, the cancer was caught early and Lutz was an ideal candidate for minimally invasive, robot-assisted surgery to remove the prostate gland.
In the segment, Lutz shares just how happy he was with the process and results of this procedure. "I read all these stories about the negative side effects of prostate removals," Lutz said. "But, I'm going to tell you something, 6 or 7 weeks after the surgery, I had no side effects whatsoever. Everything worked correctly!"
Learn more about Karl Lutz's story and hear more of Dr. Miller's recommendations about screening for prostate cancer below or by clicking here!
https://www.scottdmillermd.com/wp-content/uploads/2017/09/Screen-Shot-2017-10-19-at-3.45.23-PM.png
400
706
Christine Mahin
https://www.scottdmillermd.com/wp-content/uploads/2017/06/logo.png
Christine Mahin
2017-10-19 19:50:47
2018-04-17 14:21:47
Dr. Scott Miller featured in Fox 5 Atlanta's prostate cancer success story